June 24, 2015
The British Homeopathic Organization recommends that you keep this
Selection of Remedies
in your home or travel first aid kit.
May 17, 2015
Treat burns with heat? Using the homeopathic principle of treating like with like, it has been done. Read more about it
HERE
May 27, 2013
Toothache cured in very short order! True story can be read
HERE
April 5, 2013
First aid homeopathy, remedies to use in a disaster
Part I
March 13, 2013
Head lice prevention with homeopathy, a three part article by the homeopath Mary Aspinwall. Part 1 is
HERE
Part 2 is
HERE
and Part 3 is
HERE
January 11, 2013
An article for the flu season and homeopathic remedies to reach for can be found
HERE
December 12, 2012
Information on homeopathic remedies for
food poisoning
can be found
HERE
December 9, 2012
A great remedy for
bone fractures
is homeopathic Symphytum, from the Comfrey or "knit bone" plant. (I can personally testify to its effectiveness in avoiding surgery for two family members.) Read more about how this remedy can help people avoid surgery
HERE
December 8, 2012
Suffering from a
hangover
from that one too many last night? Homeopathy can help. See the remedy, and dosage recommendations,
HERE
December 5, 2012
Time to welcome (NOT) those
winter chills with colds and sniffles
. You can be prepared with homeopathic remedies. See a list of remedies to have on hand if you fall ill to a winter cold
HERE
November 30, 2012
heart disease
, the homeopathic cardiac remedies you might want to have on hand in your first aid kit are detailed in
THIS
article. Discuss with your homeopathic practitioner first.
November 20, 2012
HERE
November 19, 2012
Cold sores
are no match for homeopathy! See a list of remedy choices
HERE
November 18, 2012
Severe fatigue during or after a bout with the flu?
Think of homeopathic Gelsemium. Quote below by Joette Calabrese, CCH:
I've fallen hard for homeopathy. It's because it feels like generosity to me. To empower mothers and others (hence the family) is the greatest gift one can give. My personal goal is to get every medicine cabinet in America stocked with at least one homeopathic remedy. If you'd asked me last spring which is the most important remedy to own, I'd have said Dulcamara because it is wonderful for ills that come on from alternating hot and cold weather. If you'd queried in the summer months, I might have advised Arnica montana for all the spills and scrapes. But because it's flu season, I propose one of the most efficacious homeopathics for your kit: Gelsemium. Oh, Gelsemium, a reward for an inquiring mind. Discover this remedy, and you'll amaze yourself and your friends. But use it only when there's profound fatigue associated with influenza. Employ it when the sufferer is so exhausted that any movement is an effort. And use it the moment it comes on. In a 30x or 30c potency, it can be administered every 3-4 hours for a day or so or until resolution. Resolution? Yes, if you've chosen wisely, the flu will vanish. If the symptoms return, repeat the dosage again. (A dose is always 4-6 pills.) Don't use it for more than two consecutive days. If it's not working, it's because you've selected incorrectly. Thus homeopathy always facilitates...as long as the remedy is well selected.
Link to her blog
November 17, 2012
motion sickness
? Think homeopathy. Read about your remedy choices
HERE
November 4, 2012
Slammed your finger in a door or drawer
? Fell on your tail bone? Slammed your toes into a wall? Reach for homeopathic Hypericum perforatum and you'll be singing the praises of this miracle nerve ending(s) pain reliever! Read more
HERE
October 14, 2012
gastritis with vomiting and diarrhea
, a homeopathic remedy may help. For a list of remedies to consider click
HERE
October 12, 2012




The homeopathic remedy Rhus tox helps with injuries to muscles and ligaments. Read about it
HERE
September 30, 2012
You and poison ivy don't get along? Homeopathic Rhus tox can help. Click
HERE
September 29, 2012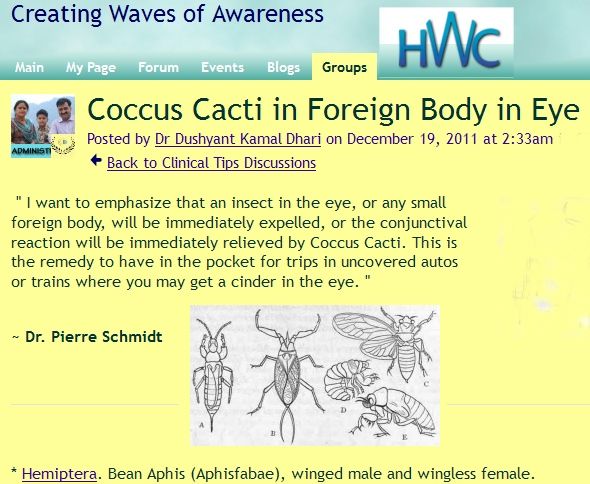 Our family uses the pellets, by dissolving 4-5 pellets in a small glass of distilled water. When we need to use, we pour a small amount into an eye cup and rinse the eye. Alternatively, we dissolve 4-5 pellets in a small sterile amber colored dropper bottle and store in refrigerator.
September 28, 2012
Hiccoughs
that will not stop? For a list of homeopathic remedies that may help click
HERE
September 27, 2012
UTI (urinary tract infection)
and cannot seek immediate help, you may consider trying a homeopathic remedy in the interim. Some remedy suggestions can be seen
HERE
September 26, 2012
food poisoning
and cannot seek help immediately, try a homeopathic remedy in the interim. For a remedy list to choose from click
HERE
NOTE: You SHOULD already have all of the remedies in your first aid kit.
September 25, 2012
ear infection
if you cannot get an appointment with your family practitioner right away, try one of the remedies mentioned in the article
HERE
Hint: You should already have these remedies in your homeopathic first aid kit.
September 24, 2012
toothache
and cannot get to a dentist right away? Maybe a homeopathic remedy will help in the interim. Click
HERE
September 22, 2012
Treat a burn on the hand with cold water? Maybe not...Read how treating burns on the hand following the homeopathic theory of like cures like… (similar similibus curentur) works
HERE
September 19, 2012