Everyone who supports and/or uses homeopathy should be frightened by the intent of this blog post by the anti homeopathy political activist Steven Novella quoted below. The diabolical suggestion / plan, (in bold blue text) is particularly worrisome.
"Any rational and reasonable medical regulatory system would not approve the sale or prescribing of homeopathic potions, license the practice of homeopathy, pay for homeopathy, or in any way legitimize or support homeopathy. In my opinion, any health care professional who prescribes homeopathy is a quack, and any government that supports or legitimizes homeopathy is failing its citizens.
I have not, however, focused much of my attention on veterinary medicine. I have been aware that human quackery has found its way to vets, some of whom use homeopathy, acupuncture, or other nonsense.
This petition raises an interesting question – might ridding veterinary medicine of homeopathy be easier that eradicating it from human medicine?
The veterinary infrastructure is smaller and perhaps more manageable. Also, the patients themselves do not have to be convinced of the science, and cannot demand specific treatments. It is a more ethically straightforward. The vets advocate for the health of their animal patients. Those patients have owners, but those owners cannot force vets to do something which is medically futile or unethical. This dodges much of the exploitation of "health care freedom" to weaken the standard of care.
Perhaps this might be a more favorable arena in which to have this fight.
Let's push for a ban on the veterinary use of homeopathy. We can make the case against homeopathy there, give it a lot of publicity, and if we are successful then we can say, 'Hey, do animals have a higher standard of care than humans?'
I don't know how it will play out, but it's worth a shot. We should all support Chambers' petition."
Source: http://theness.com/neurologicablog/index.php/should-we-ban-homeopathy-for-animals/
---
---
This study
shows how homeopathy can safely treat epilepsy and seizures in dogs.
I welcome written contributions from anyone who has had a positive experience with the use of homeopathy for themselves, family members, and pets; OR, as in the case of the St.Patrick's Day post below, natures' feathered and furred friends that are an integral part of their daily lives.
March 17, 2016
"Homeopathy isn't great just for people. It isn't great just for people and our domesticated pets and farm animals. I discovered years ago that it's also great ­­ safe and effective ­­ for wild animals too. I have a pack of squirrels living in the trees in our front and back yards. Invariably one or two would appear for a handout of nuts with signs of itchy flea bites, infections, boils, cuts or abrasions. One poor little creature appeared looking miserable with the skin around her teats purple­black and hanging down to the ground. She was nursing and had developed a very bad mammary infection.
I treat their flea bites with Ledum. In a day or two the itching is gone, and the skin is beginning to heal. Infections can be stopped in their tracks with Hepar sulphuris. Cuts disappear as quickly as they appeared with an application of Calendula. Boils bite the dust with a couple of doses of Apis. After four days of treatment with Phytolacca the nursing mother was completely healed, her tight skin a creamy white and soft where it had been purple­black and slack. She obviously felt much better since I found her angrily chasing the other squirrels away from the heap of nuts I had left on the ground.
But, you might wonder, how in the world do you treat wild animals much less squirrels? I've certainly never seen one sit still for a dose of medicine! The answer is simple and natural. I put out a lot of the squirrel's favorite food to tempt the animal needing treatment into range. I also put out a plastic dish of water with the medicine dropped into the water. (Plastic is great because I can just throw the dish out after the animal has taken enough instead of having to boil it to kill the energy imprint left by the medicine.) When the animal has eaten and developed a thirst he or she goes directly to the dish of water, drinks and thanks to the magic of homeopathy quickly improves. Since animals are fast to aggravate, it's a good idea to take the dish away as soon as they've drunk enough of the water to supply one dose of medicine." ~ Anonymous
March 15, 2016
The Peta organization talks about a case where homeopathy made a difference, a good one for pet and owner!
How Rowdy Gets His Groove back.
July 19, 2015
Dr. Will Falconer, a homeopathic veterinarian, has written a heart warming piece about a dog named Harley "the moose of a Mastiff who couldn't swallow". With homeopathy skeptics in mind, Dr. Falconer has titled this story about Harley
"Homeopathic coincidence"
Enjoy the read and pass on! You can learn more about Dr. Falconer's practice, more stories and advice
HERE

June 13, 2015

"Depression in pets, it's not all in the mind" by VinceTheVet of Telford, Shropshire, UK. Read the article
HERE
June 4, 2015
Can your cat benefit from homeopathy? That's a "yes". Read more about it
HERE
If you are a horse lover and use homeopathy, you may want to have
THIS
e-book Homeopathic First-Aid for Horses and Ponies as well as Common Ailments by Christopher Day.
Live in Florida and looking for a homeopathic vet for your pet? Consider Dr. Michael Dym, VMD in Wellington, Florida. More information about him and his practice can be found
HERE
A sweet story about a Budgie named "Actium" and his lipoma. How homeopathy helped with before and after pictures. I hope you enjoy reading it as much as I always enjoy sharing this type of homeopathic success! See it
HERE
An informative helpful article all about heartworm by Dr. Jeffrey Levy, DVM, PCH can be read
HERE
Read about how cows benefit from homeopathy too
HERE
The quoted review below was written by Cathie from NC and posted on Amazon.com Homeopathic Care for Cats and Dogs, Revised Edition:
"Small Doses for Small Animals (Paperback)I have a dog who should be the poster child for homeopathy. She had seizures after receiving a Rabies shot. Was treated by homeopathy, had a few seizures while being treated and then was seizure free and has remained so for the past 8 years. She has also had mange and cancer which we also treated with homeopathy with great results. She Will be 14 in two months and has been cancer free for three years. I Started out reading Richard Pitcarians' book, making my dogs food and reading everything I could get my hands on. We recently adopted a blue heeler and she just begun having seizures which we are treating with homeopathy.
I feel if we take our pets health seriously we should feed the best that we can afford and try and keep them healthy. But, it this does not work then find a homeopathic/holistic vet to work with. I have three dogs , ranging in ages of 2-14 and are they are all beautiful, healthy and enegic. I feed raw and they are the envy of all dogs who come to visit. I might add, I use to think feeding raw was weird and would put my dogs at risk.Since taking this step(and it was in baby steps) I am so thrilled in how well they are all doing on this and homeopathy. I also had the puppies inoculations given one at a time by my homeopathic vet. Love this book. I just sit down and read it as I would a novel."
Source
April 27, 2013
Learn more about veterinary homeopathy at the web site of The Academy of Veterinary Homeopathy
HERE
April 20, 2013
Even "Best in Show" dogs can benefit from homeopathy. Read some inspiring case histories by a homeopathic veterinarian
HERE
January 7, 2013
Allergic to cats? Homeopathy can help! See video
HERE

December 23, 2012
A great easy to understand article on Pets and Homeopthy, by Dr. Jean Hofve on the website onlynatural pet, can be found
HERE
The instructions on giving a pet a remedy and when to repeat are especially helpful.
December 13, 2012
Understanding pets and homeopathy, an overview article by a homeopath that explains what to watch for in treating your pet with homeopathic remedies. Read it
HERE
December 5, 2012
Nice article about homeopathic treatment of cancer in animals can be found
HERE
Note:
I have personal experience with homeopathy and cancer in an animal. Following the advice of my own homeopath who recommended a remedy, a cancerous tumor above my female Samoyed's left eye was cured. A veterinarian had removed the tumor but cautioned me that it would recur and that our beloved "Princess" would not live more than six more months, tops. After the homeopathic remedy, the tumor did not return and she lived an additional happy and healthy eight years!
December 4, 2012
Isn't it a nice thing to know that a homeopathic veterinarian can diagnose and treat your pet!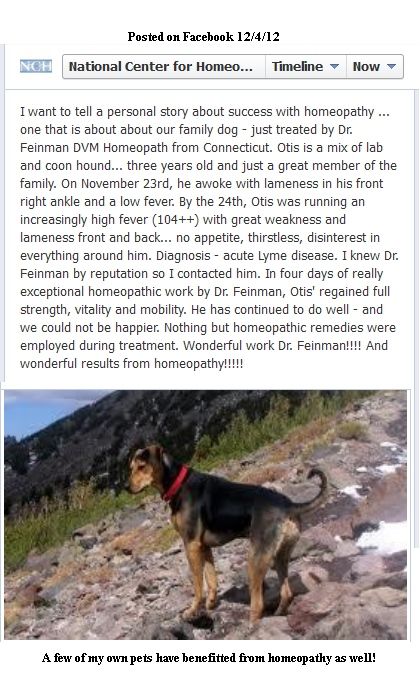 November 27, 2012
"Meg, the Alpha Dog" was diagnosed with severe kidney pathology. Read the story about how she was cured with homeopathy, when everything else had failed
HERE
November 21, 2012
Sammy, a rescue miniature white poodle was helped with a homeopathic remedy. Read the true account
HERE
October 18, 2012
You can treat your pets (dog, cat, bird, lizard, snake and other animals) with homeopathic remedies. A great article on Hpathy.com discusses the constitutional remedies to use for animals. You can read it
HERE
October 2, 2012
If your cat or dog has mange that has not responded to allopatic treatment, you might want to consider homeopathy. A link to a successful cure for a sweet dog named "Molly" (with before and after video) can be read
HERE
I personally have recommended one of the remedies (Sulphur) to 3 friends whose dogs had mange. The results were amazing and curative! I recommended 3 pellets (30 C potency) in the dog's water dish once a day for three days. You will not need to repeat this. Repeat the treatment in one month ONLY if there is a return or a significant worsening of the skin condition.
September 25, 2012
Click on the small image for a larger view of a chart to print and add to your own homeopathic first aid kit. The chart is from the book
The Holistic Guide for a Healthy Dog
by Wendy Volhard and Kerry Brown, DVM which can be purchased on Amazon.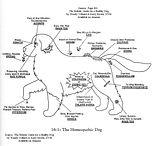 A horse gets a better life because of homeopathy. Read the case history of Paolo, a seven year old Andalusian horse
HERE
A dog named Indiana. Click on the image below to read this heartwarming article.
In the hands of a licensed veterinarian who uses homeopathy, pets can benefit too!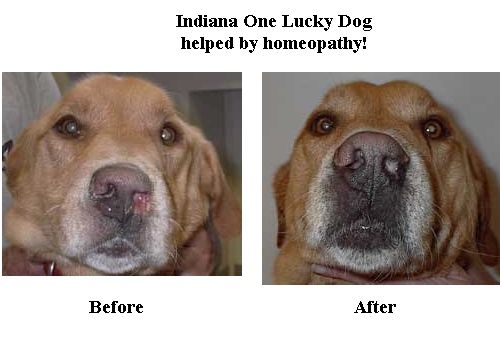 A quick overview of homeopathic remedies for your pets can be found HERE
September 13, 2012
Homeopathy can alleviate the fear of thunderstorms, loud noises, fireworks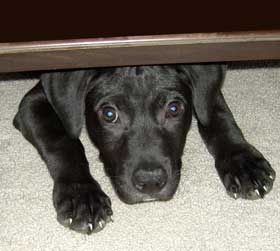 For pets who are traumatized by thunder or fireworks: A solution that is very safe and quite effective for some dogs is the homeopathic remedy Phosphorous (Phos or Phus) 30C which is available in health food stores. This is a natural compound, which is used for fear of thunder or loud noises. Drop 3 to 5 pellets down the back of the dog's throat (do not touch the pellets with your hand) every fifteen minutes until you start to see results. Then stop. You can resume giving the pellets if the dog starts to get agitated again. If Phosphorous does not seem to work, during the next storm try Aconitum Napellus 30C. Administer it in the same manner. Practitioners of homeopathy point out that a remedy either will work or not, but it will not harm the dog or cause side effects.
SOURCE
Note: Phosphorus was a life saver for three of our family dogs in the past. I prefer to drop 4 to 5 pellets in my dog's water dish, rather than try to give orally. The pellets will dissolve in a half hour or so. As your dog drinks and the water level goes down, just keep adding fresh water to the dish. Do not completely empty the dish for 24 hours. This should be all that the dog needs.
September 12, 2012
Yes, you CAN Control fleas with Homeopathy.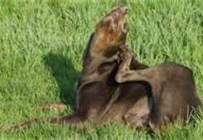 Flea Control with homeopathy. Our family has lived in Florida for the past 15 years and have had 4 dogs, all treated with homeopathic remedies to keep fleas at bay. We went the vet recommended route initially with expensive medicines, rubs, shampoos and shots (I hate to admit we did that!). Nothing worked as effectively as the homeopathic remedy Flea Relief by Dr. Goodpet. We first found this Flea Relief at our local Pet's Mart and tried on our two Samoyeds. Samoyeds, or "Sammies" are beautiful family dogs with a double coat of thick white wool fur (the undercoat of Samoyeds is prized by yarn makers since it is such a beautiful and durable wool). We put a few drops in the dogs' water bowls every day throughout the flea season (almost year round here in Florida). To our amazement and delight it worked then and works now for our Black Lab Brandon.
Do you know what it feels like to know your pet is not scratching and really has relief from fleas? It's WONDERFUL, just WONDERFUL! That was ten years ago now. Since then, we have not used expensive medications, no more garlic and/or yeast pills. What a relief for our dogs and us! You can purchase the Flea Relief through Amazon (link on right), or see if you can find it at your local pet store.
One of the ingredients in Dr. Goodpet's Flea Relief is Pulex Iritans 12X (fleas). This follows the homeopathic principle of "like treats like". You'll become very familiar with this principle as you learn more about homeopathy.
September 11, 2012
A Homeopath Suffers a Head Injury
While Working with an Arabian Horse
On a fall day I trailered my trusted Arabian for an outing to a park for trail riding. I was pulling a two-horse slant load trailer, accompanied by a friend who was trying out a "rescue" horse. This little horse had suddenly and unexpectedly become wild and injured a few people in the past, but now he was being re-released from a sanctuary to see if he could make it in the real world. We went on a very pleasant 15 mile ride and then put the horses back into the trailer and drove home. I unloaded my horse from the trailer and then as the other woman went to use the phone I heard her horse stamping in the trailer demanding to be released. I calmly re-entered the trailer and talked to the horse, untied his halter and released the butt bar. The horse immediately cow-kicked at me and as I fell down I saw hooves pummeling me from above. When this stopped the horse remained standing still in the trailer.

I did not lose consciousness but I found myself on the floor of the trailer, bleeding from the head and noticing a wound on my right index finger; I was swiftly going into shock. Drenched with sweat, I saw green and yellow dots and could not rise or speak. Moments later my friend discovered me and was surprised when I hoarsly croaked, "Get my keys." I indicated that she should open the vial of Arnica 1M and toss some of the pellets into my mouth.

Absolutely instantly as the pellets became wet on my tongue the sweat dried, the stars vanished and my head cleared, and I felt completely calm.

I was driven to the hospital where it was discovered that I had a head wound and a crushed finger. Surgery was performed to mitigate the damage to my hand and 60 stitches were placed in my scalp. When I woke up at 1 AM that next morning to be released to go home I noticed that my left leg was unstable and seemed to crumble under my weight.

Two days later I had an MRI on my knee that revealed the strong possibility of a torn anterior cruciate ligament. There was no bruising on my leg and very little swelling. Of course it took 2 ½ weeks to get an appointment with an orthopedic surgeon for evaluation of the knee. Over that period of time my knee began to feel better and more stable daily and when the day of the appointment arrived I found myself wishing that the surgeon would perform a physical evaluation of my knee before reading the MRI.

When the doctor entered the room he immediately said "Oh Good. I see you have come with your films. Well let's palpate your knee first." Sigh of relief…… He gently cradled my knee and examined for play and instability and then looked at the MRI. He pointed out that the film indicated an absence of the ligament but the physical palpation showed some stability indicating to him that the ACL structure was still encased in its capsule so he recommended a period of 3 months of bracing to see if the ACL would scar down and remain functional. He also pointed out that the film showed the shaft of the femur (thigh bone) was completely filled with blood from the hip to the knee—all this without any outward sign of bruising or swelling.

I was so thrilled with the thought that I might avoid surgery that I confided something to the doctor that I had not mentioned to anyone else. I asked him to examine my neck for whiplash as I was experiencing intermittent numbness in my left arm. He simply asked, "Has anyone performed and x-ray of your neck?" He took the film and returned to the room in five minutes with the news that my neck was broken.

The upshot of this story is that every part of my body healed perfectly with the exception of the index finger; it had sustained 12 small fractures.

My knee became stable without surgery and I can run and jump without pain. My neck healed swiftly and all neurological symptoms disappeared.

It is clear to me that the use of high potency homeopathic Arnica taken at the time of the injury prevented shock, bruising, swelling, and other possible serious ramifications of this serious accident.

Over the years I have treated numerous riders on an emergency basis at the time of injury and have observed the power of Arnica to prevent shock and alleviate trauma. These riders have healed quickly without significant bruising or suffering long-term effects of their injuries.

High potency Arnica should be in the possession of anyone who rides or handles horses. For this reason the Horse Homeopathy Emergency Kit contains professional quality high potency Arnica 1M, which cannot be obtained from your local health-food store, to be used for the horse and rider.

Posted on hpathy.com in Veterinary Homeopathy

If the State and County you live in allows you to use homeopathic remedies instead of vaccinations, you can order homeopathic nosodes for Rabies, Parvo, Distemper, Adenovirus, Lepto and other remedies from EarthSongRanch Be sure to tell them you saw their link here!